Welcome to Quintessential Quilters!
Next Meeting – Thursday, October 10, 2019
Program:  Molly Todd is speaking about "Turning Children's Artwork into a Quilt Legacy".  She started making quilts depicting nursery rhymes, but then saw a need to display the art of seriously ill children who often draw. She will explain her process and share some of her work.
We meet on the second Thursday at:
Covenant Baptist Church
5100 Dierker Road
Columbus, Ohio 43220
(between Bethel and Henderson Roads – click here for map).
2019 GROUP QUILT
Football season has arrived – it's time to kick ticket sales for our scarlet and gray group quilt into high gear! Instead of making an heirloom quilt this year, we opted for a fun quilt that should have greater appeal to the general public – there are more Buckeye fans than quilters out there! 76″ x 106″, the quilt is perfect for a game day couch quilt or dorm bed.
Here is the PayPal button to purchase tickets for our Raffle quilt.  The tickets are $1 each or 6 for $5.  The drawing for a winner will be at the December 12, 2019 QQ meeting.  A portion of proceeds will be donated to Westerville Area Resource Ministry (WARM).
PIZZA BOX SWAP
We had 19 members sign up for the pizza box swap! Please bring your pizza box to the October meeting, where we will kick off the swap. The box should include your fabric, a 9″ quilt block (9-1/2″ unfinished), and your completed information sheet taped to the lid inside of the box. If you have any questions regarding the swap, or if you signed up, but changed your mind and will not be participating, please contact Cindy DeWulf.
LITTLE BITTY BLOCK LOTTO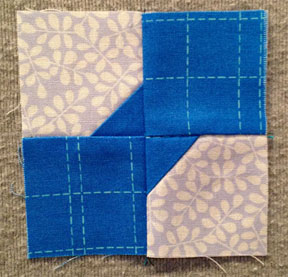 Based on Quiltmaker Magazine's 2015 Bitty Block free online patterns, we'll be making 3″ or 4″ blocks, turning them in on even numbered months: October, December, February, April, and June. We will be using one background fabric all year — Moda Bella Bleached White 90098 — and to be sure we all have the same fabric, we will be selling fat quarters for $2. The fabric is also available at some quilt shops, just be sure it is 90098
because there are other Bella whites. One fat quarter is more than enough for three blocks of all five patterns.
The October block is very easy — little bitty bow tie blocks! Make up to three sets of three blocks, put each set in a small baggie along with your name, and turn them in at the October meeting. Drawing for winners will be after the break. Details for the year are in the last newsletter — print it and save it! We hope you'll want to make every block, but it is not a commitment. Questions? Contact Janet or Cindy.
WORKSHOP – SATURDAY, SEPTEMBER 28
"No More Boring Binding" with Sue Sandritter. Join us for a morning hands-on class to learn new and perfect old binding techniques, followed by shopping with Sue and open sew in Newark.
The workshop is Saturday, September 28 from 9AM to Noon (with an optional free sew from Noon to 5PM).  It will be held at MedBen, 1821 W Main St, Newark, OH.  The cost ($20) includes lunch and class materials. If you need a form, please email quintessentialquilters@nullgmail.com
50/50 YARD SALE – JANUARY 2020
Different from the guild's garage sale, more like your personal boutique fabric sale — but better. Sell fabric that you realize you aren't going to use. Fabrics must be in ONE YARD increments — two half-yards, four fat quarters, or yardage. Only fabric is to be sold — no books, rulers, pins, etc.  Each seller will have a table, or several sellers can share a table. You can bring your own table, or use church tables. Notify Nancy Heath one week in advance of the sale if you will have your own table.  Each seller brings their own money to make change. Measure and label all yardage. If you have 1-1/4 yards, it will still be sold as ONE yard. If you have bolts of fabric, please measure ahead of time. You might consider pre-cutting in yard increments. An easy display idea: Roll and stand up in a basket any FQ and half-yard bundles for easy viewing. It might be helpful to bring bags for your customers.  Honor system to turn in one half of your sale earnings to the guild at the end of the sale. Cash preferred, but if the seller is willing, checks will be accepted, especially if it is for a large amount. No credit cards. More details will be available prior to January.
FINAL 2019 SEWING DAY
There were two spaces left for the Saturday, November 16, Sew-in, 9 a.m. to 5 p.m. at the MedBen conference center in Newark. The center has a large open area, a first floor entry, and a kitchen. If you want to sign up by email, contact Ed N. or Phyllis P.
NATIONAL QUILTING DAY – PLACEMATS FOR MEALS ON WHEELS
Once again, in celebration of National Quilting Day (March 21), QQ will collect quilted placemats at the March 12 meeting to deliver to Meals on Wheels, a project of LifeCare Alliance. (www.lifecarealliance.org) There is no pattern — there are lots of free quilted placemat patterns online. 12″ x 16″ is a good size, but that's flexible. Use your orphan blocks and odd pieces of batting left from other projects. Experiment with a new block pattern or color combination. Placemats are a perfect size to practice free-motion quilting or ruler work. We have no rules, but be sure it's something you'd like to have under your plate — clean, odor-free, and no stray threads, pet hairs, dirt, etc. Placemats need to be washable.  A new twist this year – a placemat challenge! We will provide the pattern and a piece of fusible batting, you make a placemat and possibly win a prize! Details next month. Please continue to make as many placemats as you want to — last year we had more than 100! (I'm still shooting for my personal goal of 20 for 2020.) Please hold on to your placemats until the March 12 meeting (we don't have room to store them). Questions? Contact Janet W.
COMMITTEES
Our standing committees include Community Service, Fundraising, Hospitality, Library, and Workshops. We will also have signups for the Retreat Committee, Group Quilt subcommittee, and a new category: No Piece Too Small. This is a place for you to sign up to contribute to QQ without joining a committee. Maybe you love to bind quilts and are willing to do one for a guild project. Perhaps you'd like to make table decorations for a banquet, but can't be on the committee. If you don't mind picking things up at Costco or GFS once or twice a year, you can sign up here. We all have things to contribute and we know, as quilters, that no piece is too small!
If you cannot be at the September meeting and wish to sign up, please email quintessentialquilters@nullgmail.com.
QUILT RETREATS
Registration is open for the 2019 fall Kirkmont retreat. The retreat will be held October 18-20, 2019 at the Kirkmont Retreat Center in Zanesfield, Ohio (near Bellefontaine). The facility has a large, well-lit space for sewing.  We're limited to 27 attendees, so if you want to go, make sure you register as soon as you can.
The Winter Retreat will be held at Shawnee State Park Lodge.  It will be held March 6-8, 2020.  Registration forms will be available in December.  Note:  this is a month later than usual.
Save these dates for the next Shawnee retreats:  March 5-7, 2021; and March 4-6, 2022.
Remember, you must be a current member of QQ in order to attend any of our retreats.
LIBRARY
The library had another successful garage sale during the September meeting. We raised $51.48 bringing our balance in the library fund to $110.56. We will be having another sale during the October meeting, so bring your gently used stuff to the meeting and help us raise funds to support the library and the guild.
Please stop by the library and use our vast inventory of books to spark inspiration or read one of our quilting novels. Please remember to return your book promptly.
CHOICES
As usual we will be collecting Choices donations at the October meeting — these can be placed in the CHOICES box. This month we will be collecting packages of batteries of all sizes (especially AAA), flashlights, Forever stamps, and first aid supplies (bandages, peroxide, Neosporin, Advil, Tylenol, cough and cold medicines). Cell phones (including charging cords if possible) and paper goods are always welcome.
When donating fabric to Choices, please donate only cotton fabrics (two yard pieces or larger) and do not donate blocks other than 9″ nine-patch or 12″ rail fence blocks. There are still seven quilt top kits and quite a few block kits available for people to sew together. Only two quilt top kits and one block kit were taken at the September meeting. There is no particular time when these need to be completed. Please pitch in and help to make more quilt tops.
CHOICES is our primary service project.  "LSS Choices for Victims of Domestic Violence" is an organization serving Franklin County by providing counseling and shelter to women and children who are victims of domestic abuse. Choices serves 700-800 individuals annually. QQ has been supporting this organization since 1994 by providing quilts and other donated items, primarily paper goods and cleaning supplies, for the shelter.
MARK THESE DATES ON YOUR CALENDAR!
Sep 29 – Sue Sandritter Workshop
Oct 18-20 – Kirkmont Retreat
Nov 16 – Sewing Day in Newark
Mar 6-8, 2020 Shawnee Retreat
Mar 5-7, 2021 Shawnee Retreat
Mar 4-6, 2022 Shawnee Retreat
QUILT SHOW
Thanks to everyone who attended the Quintessential Quilt Show June 21-22. We had a great time sharing our quilts with visitors.