Welcome to Quintessential Quilters!
Next Meeting – Thursday, Jan 10, 2019
FEBRUARY – A TISKET, A TASKET, WE'RE RAFFLING OFF SOME BASKETS
Fun times ahead! Our February program will include the raffling of baskets of goodies. Members are encouraged to work in small groups to create baskets, but you could also work as an individual if you choose. Everyone buys tickets which are used to "bid" on their favorite baskets.  Please see your newsletter for the ground rules on putting these baskets together.
We meet on the second Thursday at:
Covenant Baptist Church
5100 Dierker Road
Columbus, Ohio 43220
(between Bethel and Henderson Roads – click here for map).
QUILT RETREATS – March 1-3, 2019
Spring 2019 — Our annual retreat will be at Shawnee State Park Lodge on March 1-3, 2019.  Registration is now closed.
Fall 2019 — Save the Date!  The fall retreat at Kirkmont Center will be held October 18-20, 2019.  Details will be coming soon.
NATIONAL QUILTING DAY – PLACEMATS FOR MEALS ON WHEELS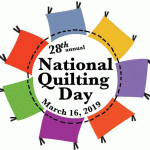 Once again, in celebration of National Quilting Day (March 16, 2019), we will collect quilted placemats at the March 14 meeting to deliver to Meals on Wheels, a project of LifeCare Alliance.  There is no pattern – there are lots of free quilted placemat patterns online. 12″x16″ is a good size, but that's flexible. Use your orphan blocks and odd pieces of batting you trimmed off a quilt. Placemats are a good size to practice free-motion quilting or ruler work. We have no rules, but be sure it's something you'd like to have under your plate – clean, odor-free, and no stray threads, pet hairs, dirt, etc. Placemats need to be washable. Please hold on to your placemats until the March 14 meeting (we don't have room to store them).  Questions? Email Quintessential Quilters.
2019 SEWING DAYS
Ed Nydegger has again reserved three 2019 sewing days for us at his office in Newark. Sign-ups start in March with details in the March newsletter. Dates are: April 20, July 13, and November 16.
SAVE THE DATE: JUNE 21-22 – QUINTESSENTIAL QUILTERS QUILT SHOW!!
At our January Board meeting, the Board voted to hold a quilt show on June 21 and 22 at Hondros College of Business in Westerville. Set up will be the evening of June 20.  Teri Tope and Kathi Machle will chair the committee. More information to come soon.  Please mark these dates on your calendar now and plan to support the guild by entering a quilt, volunteering, and inviting all your friends!
JACQUIE GERING
Jacquie Gering will be offering a 2-day workshop, "Creative Quilting with a Walking Foot," on April 12-13, 2019.  Check out her website: www.tallgrassprairiestudio.blogspot.com and her book, "Walk". Questions? Email Quintessential Quilters.  The workshop is now full.
Jacquie will also be providing the program for our April 11 meeting – "Quilting Modern: Honoring Tradition."
LIBRARY
Thank you all for stopping by the library garage sale at the January meeting. We sold a total of $60 bringing our library funds up to $148.57. There will be NO GARAGE SALE in February. We do not want to compete with the QQ fundraising baskets. So, if you have items to donate to the library garage sale, please hold them until March or place them in an attractive basket arrangement and donate them to the basket sale.
PRESIDENT'S CHALLENGE
The President's challenge theme this year is "Out of the Box." This challenge is to get you to use your brain and think of something that you either have not done before or change using the same colors or pattern, etc. Keep in mind that your brain is like a muscle, if you don't use it, it stops working.
Guidelines are flexible – any item works: quilt, wallhanging, bag, clothing, 3-D sculpture – just try something different. A new technique – applique, free motion quilting, paper-piecing, hand-work; a new-to-you palette; a different style – switch from multi-block repeats to something modern. Just do it!!
Questions? Ask Juanita. Projects will be revealed at the June meeting, so you have plenty of time to get your nerve up to try something new.
CHOICES
We'll be collecting cleaning products such as toilet bowl cleaner, all-purpose spray cleaner, dish soap or powdered laundry detergent. Paper towels, toilet paper and cell phones are always welcome. If you donate a cell phone, please include the charging cord with your phone if possible.
"LSS Choices for Victims of Domestic Violence" is an organization serving Franklin County by providing counseling and shelter to women and children who are victims of domestic abuse. Choices serves 700-800 individuals annually. QQ has been supporting this organization since 1994 by providing quilts and other donated items, primarily paper goods and cleaning supplies, for the shelter.
MARK THESE DATES ON YOUR CALENDAR!
QQ meetings – Feb 14, Mar 14, Apr 11, May 9, Jun 13
Mar 1-3, 2019 – Shawnee State Park Retreat
Mar 15, 2019 – National Quilting Day
Apr 11, 2019 – Jackie Gehring's program "Quilting Modern: Honoring Tradition", www.tallgrassprairiestudio.blogspot.com
Apr 12-13, 2019 – Jackie Gehring's Workshop "Creative Quilting with a Walking Foot", www.tallgrassprairiestudio.blogspot.com
Apr 20, Jul 13, Nov 16 – Sewing Days in Newark
Apr 25, Aug 15 – Board Meetings
Jun 21-22 – QQ Quilt Show