Welcome to Quintessential Quilters!
Next Meeting – Thursday, Mar 15, 2019
At the March meeting Ruthie Hoover will present the program "Going Back to Charm School," all about charm quilts. The traditional definition of a "charm quilt" is a quilt with every piece made from a different fabric. However, this definition currently has a broader definition with the advent of precut charm packs or 5″ squares.  Quilters now also think of a "charm quilt" as being made from these 5″ pre-cut squares. Ms. Hoover has asked that if members have made charm quilts that they bring them to the meeting and she will incorporate them into her program.
We meet on the second Thursday at:
Covenant Baptist Church
5100 Dierker Road
Columbus, Ohio 43220
(between Bethel and Henderson Roads – click here for map).
QUILT RETREATS
Fall 2019 — Save the Date!  The fall retreat at Kirkmont Center will be held October 18-20, 2019.  Details will be coming soon.
NATIONAL QUILTING DAY – PLACEMATS FOR MEALS ON WHEELS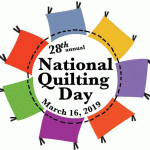 March is the month! In celebration of National Quilting Day (March 16), we will collect your quilted placemats at the March 14 meeting to deliver to Meals on Wheels, a project of LifeCare Alliance. (www.lifecarealliance.org) Last year we
had almost 100 – let's shoot for more! You still have time to make one, or a few. There is no pattern – you'll find lots of free quilted placemat patterns online. 12″x16″ is a good size, but that's flexible. Use your orphan blocks and odd pieces of batting. Placemats are a good size to practice free-motion quilting or ruler work, or a new block pattern or color scheme. We have no specific
rules, but be sure it's something you'd like to have under your mother's plate – clean, odor-free, and no stray threads, pet hairs, dirt, etc. Placemats need to be washable.
For more information about National Quilting Day: www.quiltalliance.org/nationalquiltingday
To download my super simple baby quilt pattern: www.quiltalliance.org/nationalquiltingday/happybirthdaybaby
If you have any questions about the pattern, just ask! Set aside time to do something special to celebrate our special holiday to honor quilts and quilt makers – past, present, and future!
Questions? Email Quintessential Quilters.
2019 SEWING DAYS
Sign-ups for the Sewing Days are via email or at the meetings. Dates are April 20, July 13, and November 16 at the MedBen conference center in Newark.  Sewing time is from 9 AM to 5 PM.  We have use of a large open area, a first floor entry and a kitchen.  There is room for 30 people at each Sew-In.  There are no fees, but please plan to donate to the pot to cover the catered lunch. You may sign up for two people.  Email or see Phyllis.
SAVE THE DATE: JUNE 21-22 – QUINTESSENTIAL QUILTERS QUILT SHOW!!
Get ready to show your stuff! The Quintessential Quilt Show is scheduled for June 21 and 22 at Hondros College of Business in Westerville. Share your favorite quilt with the world! Plan to help with set up on June 20 and to volunteer during the show. We want to dazzle our public and recruit new members.
WORKSHOPS
Jacquie Gering is presenting a 2-day workshop, "Creative Quilting with a Walking Foot," on April 12-13, 2019.  Check out her website: www.tallgrassprairiestudio.blogspot.com and her book, "Walk". Questions? Email Quintessential Quilters.  The workshop is now full.  Jacquie will also be providing the program for our April 11 meeting – "Quilting Modern: Honoring Tradition."  There is a small charge for non-members.

On September 29, 2019, we will have a mini-workshop, "No More Boring Binding." Sue Sandritter will provide a hands-on opportunity to learn several binding techniques followed by sewing time at 1821 W Main Street, Newark. We hope to test this inexpensive, shorter and focused type of workshop in response to various concerns expressed about our recent workshops. Watch future newsletters for more information and registration forms.
LIBRARY
In March we will again have a fantastic garage sale. Bring your dollars, dimes, and quarters, and find some treasures for your sewing room.  The library will be open too, so do not forget to return your books. Members can borrow up to three books for a month at a time. If you need an extension, see a library committee member.
We could use one or two new members on the committee to serve until the end of the QQ year (June). If you would like give us a hand, please see any library lady and we'll put you to work.
PRESIDENT'S CHALLENGE
Expand your quilting horizons – step out of the box and learn something new! All members are encouraged to try something different this year. Guidelines are flexible – any item works: quilt, wall-hanging, bag, clothing, 3-D sculpture. Do something you've never done before. A new technique – applique, free-motion quilting, paper-piecing, hand-work; a new-to-you palette; a different style – switch from multi-block repeats to something modern. Just do it!!
Questions? Ask Juanita. Projects will be revealed at the June meeting, so you have plenty of time to get your nerve up to try something new.
CHOICES
The donation to Choices from our 2018 group quilt was much appreciated. Thanks to those who worked on the quilt and those who sold and bought tickets. They have started to move people into the new shelter which is very exciting for everyone involved. 
This month we will be collecting cleaning supplies such as Lysol disinfectant spray, toilet bowl cleaner, all-purpose cleaner (such as 409), Mr. Clean Magic Sponges, and paper towels. As usual cell phones are always welcome. If you donate a phone please include the charging cord.
"LSS Choices for Victims of Domestic Violence" is an organization serving Franklin County by providing counseling and shelter to women and children who are victims of domestic abuse. Choices serves 700-800 individuals annually. QQ has been supporting this organization since 1994 by providing quilts and other donated items, primarily paper goods and cleaning supplies, for the shelter.
MARK THESE DATES ON YOUR CALENDAR!
QQ meetings – Apr 11, May 9, Jun 13
Apr 11, 2019 – Jackie Gehring's program "Quilting Modern: Honoring Tradition".  Bring a friend!  Small fee for guests.
Apr 12-13, 2019 – Jackie Gehring's Workshop
Apr 20, Jul 13, Nov 16 – Sewing Days in Newark
Apr 25, Aug 15 – Board Meetings
Jun 21-22 – QQ Quilt Show
Sep 29 – Sue Sandritter Workshop
Oct 18-20 – Kirkmont Retreat