Welcome to Quintessential Quilters!
Next Meeting – Thursday, April 12, 2018
PROGRAM
We meet on the second Thursday at:
Covenant Baptist Church
5100 Dierker Road
Columbus, Ohio 43220
(between Bethel and Henderson Roads – click here for map).
WORKSHOPS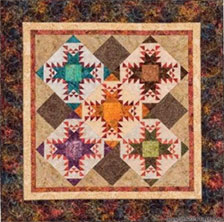 Donna Lynn Thomas will be presenting two 1-day workshops on Friday, April 13 (Batik Feathers) and Saturday, April 14 (Interlocken), as well as a lecture at our April meeting. REGISTER NOW! Registration forms were included in your newsletters. Cost is $70 per workshop (includes lunch). Donna will have kits available for each workshop for a small extra charge. Don't miss this opportunity to learn from a fabulous teacher.
SATURDAY SEW-INS
Sign-ups began in February for the three day-long (9 am to 5 pm) Saturday Sew-Ins at MedBen conference center in Newark, where Ed Nydegger works. Ed has kindly arranged for us to use the center which has a large open area, a first floor entry, and a kitchen. There will be room for 30 people. To make sure everyone has the opportunity to attend at least
one of the Sew-Ins, we'll take signups starting at the February meeting where you can indicate your first and second choices for the dates you prefer. Depending on demand, you may get to attend two of them. Here are the dates:
May 5, 2018
July 7, 2018
November 3, 2018
If you were unable to sign up, you can email Phyllis.
QUILT RETREAT
Fall 2018 — SAVE THE DATE! Our newly expanded fall retreat at Kirkmont Center was a huge success. We have booked October 19-21, 2018, so mark your calendars now.
LIBRARY
Thank you for frequenting our QQ library garage sale. The February profits were $43.65, bringing our balance to $246.48. AQS (American Quilter's Society) is having a wonderful sale, so we have ordered the following books. For those that love quilting novels, we have ordered "Church Ladies' Quilts", "Quilt the Town Christmas", and "For the Love of Quilts" all written by Ann Hazelwood. "For the Love of Quilts" will be published and mailed to us in April. For our Kaffe Fassett fans our order includes "Quilts of Ireland." Other new titles include "Braided Bargello Quilts", "Modern Quilt Magic: 5 Parlor Tricks to Expand Your Piecing", "Patches of Blue: 17 Quilt Patterns & a Gallery of Inspiring Antique Quilts", "Artful Log Cabin Quilts", "New York Beauty: New Quilts From an Old Favorite", Crafted Applique: New Possibilities", "Quilting Wide Open Spaces", and Quilted Artwork Frames."
CHOICES
We'll be collecting cleaning products such as toilet bowl cleaner, all purpose cleaner, dish soap or powdered laundry detergent. Paper towels, toilet paper and cell phones are always welcome.  We are always in need of fabric to use for quilt backings, so if you have 2 yard or larger pieces of fabric you no longer want please donate them to this good cause. Also if you have some orphan blocks or a quilt top you no longer love and don't want to quilt feel free to donate these as well.
"LSS Choices for Victims of Domestic Violence" is an organization serving Franklin County by providing counseling and shelter to women and children who are victims of domestic abuse. Choices serves 700-800 individuals annually. QQ has been supporting this organization since 1994 by providing quilts and other donated items, primarily paper goods and cleaning supplies, for the shelter.
MARK THESE DATES ON YOUR CALENDAR!
Donna Lynn Thomas Workshop – April 13-14, 2018
Saturday Sew-In — May 5, 2018
Saturday Sew-In — July 7, 2018
Fall Retreat — October 19-21, 2018
Saturday Sew-In — November 3, 2018
Jackie Gehring Workshop – April 12-13, 2019