Welcome to Quintessential Quilters!
Next Meeting – Thursday, Feb 8, 2018
PROGRAM
Meta Von Norstran will be the speaker for the February meeting.  Her lecture is entitled "WWI to WWII: Transforming Traditions".  She describes her topic in this way:  "The Gilded Age of the late 1800's prepares the way for the emerging business woman and creative homemaker.  After WWI quilting competes with new bedroom fashions, but women artists and women's magazines create a quilting frenzy made ever more popular by the Great Depression.  This trunk show ill take you on a journey of the joy of quilting from WWI – WWII."
We meet on the second Thursday at:
Covenant Baptist Church
5100 Dierker Road
Columbus, Ohio 43220
(between Bethel and Henderson Roads – click here for map).
WORKSHOPS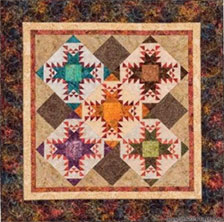 Donna Lynn Thomas will be presenting two 1-day workshops on Friday, April 13 (Batik Feathers) and Saturday, April 14 (Interlocken), as well as a lecture at our April meeting. REGISTER NOW! Registration forms were included in your January newsletter. Cost is $70 per workshop (includes lunch). Donna will have kits available for each workshop for a small extra charge. Don't miss this opportunity to learn from a fabulous teacher.
SATURDAY SEW-INS
Sign-ups begin in February for the three day-long (9 am to 5 pm) Saturday Sew-Ins at MedBen conference center in Newark, where Ed Nydegger works. Ed has kindly arranged for us to use the center which has a large open area, a first floor entry, and a kitchen. There will be room for 30 people. To make sure everyone has the opportunity to attend at least
one of the Sew-Ins, we'll take signups starting at the February meeting where you can indicate your first and second choices for the dates you prefer. Depending on demand, you may get to attend two of them. Here are the dates:
May 5, 2018
July 7, 2018
November 3, 2018
PLEASE NOTE: Phyllis will not be at the February meeting, although someone (still to be determined) will be there with the sign-up sheets. If you cannot make the meeting, or you miss an opportunity to sign up, you can email your choices to Phyllis. DO NOT EMAIL PHYLLIS BEFORE FEBRUARY 8TH. If you do, it won't count. We will continue to take sign-ups until each Saturday is full. We will also create waiting lists.
BLOCK RAFFLE
FEBRUARY 2018 – Red and Cream Nine-Patch Blocks
Make 3 blocks. For each block you will need five 2″ squares of red and four 2″ squares of cream. Use the same red and cream for all 3 blocks. You can easily get 3 blocks from 2 fat quarters.
Use any red print, any value from light to dark. Any cream/ecru/off-white print fabric.  Except: No solids, metallics or white-on-white fabric. Use good quality cotton fabrics, and please pre-wash all fabric.
Arrange fabrics as shown at the meeting and in the newsletter (reds in the corners and center). Stitch with 1/4″ seams and press seams toward the red fabric. Your blocks should be 5″ square with seam allowances, 4.5″ square finished.
You are welcome to make up to 4 sets of 3 blocks, but please use different fabrics for each set. Your name will be entered in a drawing to win blocks once for each set you turn in.
Put each set of 3 blocks in a small baggie with your name in or on the bag. Turn blocks in at the January or February meeting to Janet White, Cindy DeWulf, or Betsy Weigant. Drawing will be held at the February meeting – it will depend how many blocks we collect before we know how many you will win.
If you would like to participate but cannot attend the meetings, please mail your blocks by February 1 to Janet W.(see roster for address).
GROUP QUILT
2018 — Block Kits (instructions, white fabric and color swatch) were available at the September and October meetings. Please complete and return your blocks by the January meeting. If you have any questions, please email Patty Daugherty.
NATIONAL QUILTING DAY – PLACEMATS FOR MEALS ON WHEELS
It's almost time! Next month, in celebration of National Quilting Day (March 17), we will be collecting quilted placemats at the March 8 meeting to deliver to Meals on Wheels, a project
of LifeCare Alliance. There is no pattern, although you can find lots of free quilted placemat patterns online. 12″x16″ is a good size, but that's flexible. Use your orphan blocks — you know, the ones you weren't quite happy with the colors or the pattern — and the odd pieces of batting you trimmed off a quilt. Placemats are a perfect size to practice free-motion quilting. We have no rules, but be sure it's something you'd like to have under your plate — clean, odor-free, and no stray threads, pet hairs, dirt, etc.
Please hold on to your placemats until the March 8 meeting (we don't have room to store them) and I'll deliver them before March 17. Questions? Questions? Email Janet White.
QUILT RETREAT
Spring 2018 — Registration is now full for our annual retreat at Shawnee State Park Lodge.  If you would like to be added to a waiting list, email Phyllis. This year's retreat is scheduled for March 2-4, 2018.  Shawnee State Park Lodge is a lovely facility and there is always lots of fun to go along with lots of sewing.
Fall 2018 — SAVE THE DATE! Our newly expanded fall retreat at Kirkmont Center was a huge success. We have booked October 19-21, 2018, so mark your calendars now.
LIBRARY
During the January meeting we had a very successful library garage sale. The proceeds totaled $54.75, taking our library fund over the $200 mark. We will have another sale at our February meeting, so pack up your usable items and bring them to the meeting. And bring your dimes and dollars and buy some treasures. Monies will be used to purchase new books for our excellent library.
CHOICES
We'll be collecting cleaning products such as toilet bowl cleaner, all purpose cleaner, dish soap or powdered laundry detergent. Paper towels, toilet paper and cell phones are always welcome.  We are always in need of fabric to use for quilt backings, so if you have 2 yard or larger pieces of fabric you no longer want please donate them to this good cause. Also if you have some orphan blocks or a quilt top you no longer love and don't want to quilt feel free to donate these as well.
"LSS Choices for Victims of Domestic Violence" is an organization serving Franklin County by providing counseling and shelter to women and children who are victims of domestic abuse. Choices serves 700-800 individuals annually. QQ has been supporting this organization since 1994 by providing quilts and other donated items, primarily paper goods and cleaning supplies, for the shelter.
MARK THESE DATES ON YOUR CALENDAR!
Regular Meeting — February 8, 2018
QQ Spring Retreat, Shawnee State Park — March 2-4, 2018
Regular Meeting — March 8, 2018
Donna Lynn Thomas Workshop – April 13-14, 2018
Saturday Sew-In — May 5, 2018
Saturday Sew-In — July 7, 2018
Fall Retreat — October 19-21, 2018
Saturday Sew-In — November 3, 2018
Jackie Gehring Workshop – April 12-13, 2019