Welcome to Quintessential Quilters!
PROGRAMS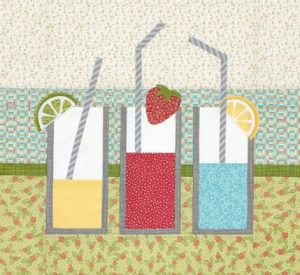 The next meeting is at 7 pm,  Thursday, June 8, 2023.  The June Potluck meeting theme is "A Summer Garden Party." Join the festivities and wear something "flowery."  Because of the potluck, the June meeting will begin at 6:30 p.m. Please give the Potluck committee time to prepare the church sanctuary by not arriving before 6:15 p.m. The main meat course will be provided. Please bring a hot or cold dish or salad or dessert and the serving utensil for it. Table service will be provided. The drinks will not be provided; please bring your own drinks.  Due to food allergies, please also label your dish accordingly.  Be prepared to take home your leftovers, containers and serving utensils.
If you don't make it to the June meeting, then enjoy your summer.  The next meeting after June's will be September 14.
GROUP QUILT 2023 – "Exploding Heart"
Our finished group quilt debuted at the May meeting.  Tickets are ready to pick up at the June meeting. The drawing will
be held at the December meeting – we have six months to sell tickets! Half of the net will be donated to "Go Red For Women/American Heart Association" as approved by members at the May meeting. We will request that our donation is used locally.
Tickets are $1 each or 6 for $5 from members.
RETREATS
Here is the schedule for our upcoming retreats:
August 25-27, 2023 – Procter Center
October 20-22, 2023 – Kirkmont Center
March 8-9, 2024 – Shawnee
March 7-9, 2025 – Shawnee
PRESIDENT'S CHALLENGE – HOLIDAY CELEBRATION
Halloween, Easter, Veteran's Day, 4th of July, Christmas, Columbus Day, Father's Day, Mother's Day…  These are just a few examples of the many "holidays" we celebrate every year. So, pick a holiday you want to celebrate and make something quilted that exemplifies it. (The list above is not inclusive of all the holidays you have to choose from!) There really aren't many rules.
It can be any size: mug rug to table runner to king size quilt, or a purse or tote or ???  Your choice.
It can use any technique or combination of techniques.
It must be made this QQ year – November through June.
It must be made of 3 layers – top, batting and backing.
It must be quilted and complete.
We'll have a special show and tell at the June meeting. You might have to tell us why you picked your holiday. And remember this is supposed to be a fun celebration. It's not meant to be additional stress or work for you!