Welcome to Quintessential Quilters!
Next Meeting – Thursday, June 13, 2019
GOIN' ON A PICNIC! – JUNE POTLUCK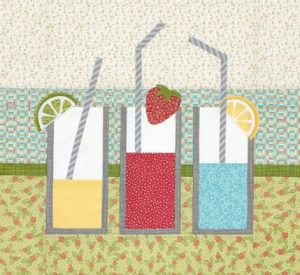 Welcome to the June 2019 "Goin' on a Picnic" QQ Potluck!  The June Potluck Meeting starts at 6:30 p.m. instead of the usual 7:00 p.m. Please do not arrive before 6:15 p.m.  The main meat course of chicken will be supplied. QQ guild members, please bring a potluck dish typical for a picnic. Plates, eating utensils, cups, napkins, and bottled water will be provided. Please bring your own labeled serving utensils as the church kitchen is not available.  For those with food allergies, we suggest you make a small ingredients sign for your potluck dish. Containers will be available for recycling, and the table center pieces will be the door prizes.  Please remember to bring items for Choices, your quilt for QQ's quilt show on June 21-22, your President's Challenge, and any items for Show & Tell after the potluck.
We meet on the second Thursday at:
Covenant Baptist Church
5100 Dierker Road
Columbus, Ohio 43220
(between Bethel and Henderson Roads – click here for map).
QUINTESSENTIAL QUILT SHOW
Here is the PayPal button to purchase tickets for our Raffle quilt.  The tickets are $1 each for 6 for $5.  The drawing for a winner will be at the December 12 QQ meeting. The quilt is 76″ x 106″ in scarlet and gray, with machine quilting (buckeye leaves) by Wendy Bynner. We're hoping the more modern theme will also appeal to non-quilters who would love a scarlet and gray quilt but will never make one! A portion of proceeds will be donated to WARM.
We are counting down to June 21 and 22! Many thanks to those of you who have already volunteered yourselves and your quilts! Ribbons will be awarded for viewer's choice in each category. We are going to celebrate ALL of our talented members! We still need volunteers for the show – sign up at the meeting or email quintessentialquilters@nullgmail.com.
The show is scheduled for June 21 and 22 from 9 a.m. to 4 p.m. at Hondros College of Business, 4140 Executive Parkway in Westerville. We will be collecting nonperishable food donations for WARM (Westerville Area Resource Ministry).  The following businesses and organizations have donated some really great raffle prizes: Aurifil Thread, Havel's Sewing, Quilt Trends, The Art Quilt Alliance, and RJ Donovan Co., LPA.  Let your friends, relatives and the quilting community know about the show. Time to celebrate QQ and quilting! The more the merrier!
2019 SEWING DAYS
There are three open slots for the July 13 Sew-In and 11 open slots for the November 16 Sew-in in Newark.
Details about the sewing days: These are Saturday Sew-Ins, 9 a.m. to 5 p.m., at the MedBen conference center in Newark, where Ed works. The center has a large open area, a first floor entry, and a kitchen. There will be room for 30 people at each Sew-In. There are no fees, but please plan to donate to the pot to cover the lunch.
WORKSHOPS
"No More Boring Binding" with Sue Sandritter on September 28 is filling up nicely. Join us for a morning hands-on class to learn new and perfect old binding techniques, followed by shopping with Sue and open sew at MedBen, 1821 W. Main St., Newark. The cost ($20) includes lunch. Forms were included in the May newsletter – if you need another, please email quintessentialquilters@nullgmail.com.  (The form is also available in the files section of the QQ members only Facebook group.)
COMMITTEES
Committee sign ups will be available at the June meeting. Our standing committees include Community Service, Fundraising, Hospitality, Library, and Workshops. We will also have signups for the Retreat Committee, Group Quilt subcommittee, and a new category: No Piece Too Small. This is a place for you to sign up to contribute to QQ without
joining a committee. Maybe you love to bind quilts and are willing to do one for a guild project. Perhaps you'd like to make table decorations for a banquet, but can't be on the committee. If you don't mind picking things up at Costco or GFS once or twice a year, you can sign up here. We all have things to contribute and we know, as quilters, that no piece
is too small!
If you cannot be at the June meeting and wish to sign up, please email quintessentialquilters@nullgmail.com.
LIBRARY
The final garage sale of the QQ year was held on May 9. The sale netted $34.80, bringing our library funds to a total of $132.45. This year the QQ Board voted to have the library share half of the year end total with the guild treasury. So the library will be sharing $66.23 with the guild and will be keeping $66.22 in the library funds for purchases over the summer. Thank you all for frequenting the garage sale and for donating wonderful items to the sale. Because all of the tables will be used for the June potluck, there will be no June garage sale and the library cart will be open. We will also accept returns during the potluck.
PRESIDENT'S CHALLENGE
You have a few more days – you can do it! All members are encouraged to try something different this year. Guidelines are flexible – any item works: quilt, wallhanging, bag, clothing, 3-D sculpture.  Do something you've never done before: a new technique, a new-to-you palette, a different style – anything new for you. Just do it!!
Questions? Ask Juanita. Projects will be revealed at the June meeting.
QUILT RETREATS
Registration is now open for the 2019 fall Kirkmont retreat. The retreat will be held October 18-20, 2019 at the Kirkmont Retreat Center in Zanesfield, Ohio (near Bellefontaine). The facility has a large, well-lit space for sewing.  We're limited to 27 attendees, so if you want to go, make sure you register as soon as you can. See the attached flyer for more details and the registration form.
Save these dates for the next three Shawnee retreats: March 6-8, 2020; March 5-7,
2021; and March 4-6, 2022.
CHOICES
This month we will be collecting paper goods and cleaning supplies. Please do not
donate partially used items. Cell phone donations are always welcome. If you donate
phones please include the charging cords if possible.
There are a large number of nine patch block kits (10 blocks per kit) which need to be sewn together. There are also two quilt top kits with blocks enough to construct a 6 by 7
row quilt.
"LSS Choices for Victims of Domestic Violence" is an organization serving Franklin County by providing counseling and shelter to women and children who are victims of domestic abuse. Choices serves 700-800 individuals annually. QQ has been supporting this organization since 1994 by providing quilts and other donated items, primarily paper goods and cleaning supplies, for the shelter.
MARK THESE DATES ON YOUR CALENDAR!
Jul 13, Nov 16 – Sewing Days in Newark
Aug 15 – Board Meetings
Jun 21-22 – QQ Quilt Show at Hondros College of Business
Sep 29 – Sue Sandritter Workshop
Oct 18-20 – Kirkmont Retreat
Mar 6-8, 2020 Shawnee Retreat
Mar 5-7, 2021 Shawnee Retreat
Mar 4-6, 2022 Shawnee Retreat